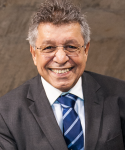 Electrical Sector Researcher Coordinator
Master in Electrical Engineering by COPPE/UFRJ. Graduate in Corporate Management by Cândido Mendes University and in Finance (Executive MBA) by IBMEC/RJ. Holds an undergraduate degree in Electrical Engineering by PUC/RJ and incomplete Doctor's in Electrical Engineering by the same institution.
Coordinator of Institutional Relation at FGV Energia, Center for Energy Study, linked to FGV Presidency.  Member of the Board of Administration and the Board of People linked to the body of Santo Antônio Energia Ltda. Member of the Board of Directors of REAL GRANDEZA Foundation. Worked for 35 years at FURNAS Centrais Elétricas (1979 to 2013), the last 5 years as Chief of Staff of the Presidency, when he also worked with Ombudsman (2013) and Superintendence of Communication (2011). At FURNAS, he also worked as Head of the Transmission Contracts Division and Transmission Trade Department. Luiz Roberto has broad experience in institutional relation, Executive management, acting as responsible in the Commercial and Regulatory Departments focused on integrating them to the most different business and services areas. In the technical area, he is specialized in power quality, equipment load capacity, especially transformers, system electrical planning.