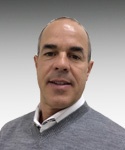 With background in Geology (University of Sao Paulo - USP), became a Petroleum Geologist at Petrobras (1989), achieved a Master's Degree in Environmental Analysis and Dynamics by The University of Hull (1995) and a MBA in Business Management by USP (2001). Attended executive training programs on leadership, strategy, finances and governance at Amana-Key, Insead, Wharton, Harvard, Fundação Dom Cabral and London Business School.
Worked 30 years for Petrobras, holding several management roles such as Corporate Health Safety and Environment (HSE) Manager for Exploration & Production activities; Corporate Quality and HSE Manager for the International Business Area; Planning and Business Performance Assessment Manager for Americas, Africa and Eurasia, when he also represented Petrobras in the Board of the Extractive Industries Transparency Initiative (EITI). He managed ethanol partnerships for Petrobras Biocombustível, a full controlled subsidiary of Petrobras, where he became Ethanol and Agriculture Supply Executive Director, and board member of three affiliated companies: Guarani S.A., Nova Fronteira Bioenergia S.A., and Bambuí Bioenergia S.A.
Experienced manager in exploration & production and biofuels business for more than 20 years, leading several initiatives such as implementation of Quality, Health, Safety and Environment (QHSE) management systems; business organization design; establishing and controlling business key performance indicators (KPI's); strategic planning; and corporate governance.
Consultant for FGV Energy since November 2016, he works on energy studies and projects with emphasis on biofuels.