Royalties Rate in Mature Fields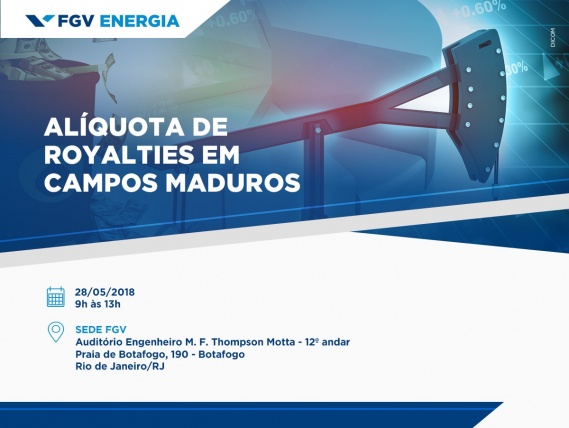 FGV Energia holds an event "Discussions on exploration of low permeability resources in Brazil: transparent well project"
The ANP approved the draft resolution that regulates the granting of incentives to projects to revitalize mature fields, by reducing the rate of royalties on incremental production of these fields. According to the proposal, the rate can be reduced up to 5%. The objective is to foster activities in mature fields, leveraging short-term investments.
The need for this discussion becomes urgent, especially as regards the stimulation of the extension of the economic life of the fields, avoiding premature abandonment and encouraging the full use of resources. Additionally, as more investments can be made in these areas, the recovery factor of the fields increases, avoiding to leave underground proved reserves.
With this, FGV Energia opens the door to this discussion that will involve MME, ANP, PPSA, ABESPETRO and Firjan, among other stakeholders. The Seminar will happen on May 28, 2018, in the auditorium of FGV, Praia de Botafogo, 190 / 12º floor, at 9am.
Live video: https://youtu.be/gx3R9LPXEyM
Programming:
Opening
// Carlos Ivan Simonsen Leal - President, FGV *
// Marcio Felix - Executive Secretary, MME *
First Roundtable: "Less Royalties, More Jobs" - Mediated by Dr. Aluízio dos Santos Junior - Mayor of Macaé
// João Vicente de Carvalho Vieira - Secretary of Oil, Gas and Biofuel MME *
// Dirceu Amorelli - Director ANP *
// Bruno Eustáquio de Carvalho - Director PPI - Presidency of the Republic - Presentation
// Sérgio Augusto Coelho - Consultant of Energy Policies of Macaé City Hall
Second Roundtable: Mediated by Magda Chambriard * FGV - Presentation
Extension of the productive life of land and sea fields as well as the use of opportunity for Greenfield projects.
// Oswaldo Pedrosa - Ex PPSA *
// Alejandro Duran - ABESPetro *
// Anabal dos Santos Junior - ABPIP
// Fernanda Delgado - FGV Energia *
Third Roundtable: Mediated by Tauil Chequer (OAB)
// Evandro Caldas (PROGE ANP) - Presentation
// Giovani Loss (Mattos Filho) *
// Tiago Macedo - Ex PROGE - Presentation
Closure: Adriano Pires *
* Confirmed