U.S. - Americas LNG Forum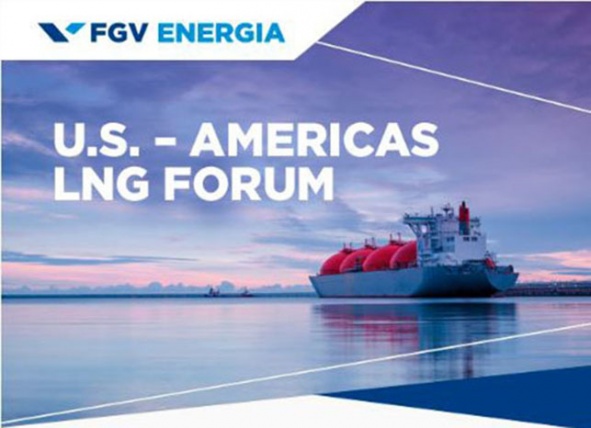 FGV Energia and the US Government in Brazil are proud to launch the First US-Americas LNG Forum, an event that, for the first time, connected the LNG players of the Western Hemisphere.
Participants received, at first hand, valuable market information on US LNG exports and trends in the natural gas sector.
The event also provided an excellent networking opportunity with American LNG exporters and LNG Infrastructure Specialists.
This is a must-see event for those seeking to participate in the discussions on the natural gas and energy security market, as well as being in contact with important representatives of LNG follow-up.
Programming:
// 08:30 – 09:00: Registration, Breakfast, Networking
// 09:00: Welcome and Introduction
Carlos Otavio Quintella, Executive Director, FGV Energia, Fundação Getúlio Vargas
James Story, Consul General, U.S. Consulate General in Rio de Janeiro
Fred H. Hutchison, President and CEO, LNG Allies - Presentation
// 09:20: Palestra de Abertura: Exportações de GNL dos EUA para as Américas
Thomas R. Hardy, Director, U.S. Trade and Development Agency
// 09:45: U.S. LNG in Brazil and the Americas
Roberto Ferreira da Cunha, Director, Latin America Energy, IHS Market - Presentation
Giovani Machado, Head of Natural Gas and Biofuels Department, Empresa de Pesquisa Energética - Presentation
Bernardo Perseke, Chief Executive Officer, Gás Natural Açu
Moderator: Magda Chambriard, Senior Consultant, Fundação Getúlio Vargas
// 10:30: Networking Coffee Break
// 11:00: Presentations by U.C. LNG Exporters
Renato Pereira, Vice President, Business Development, Tellurian Inc. - Presentation
Chad Whiteside, Director of Americas Origination and Business Development, Cheniere Energy
Eduardo Carvajal, Brazilian Representative, Delfin Midstream (Counsel, Hogan Lovells) - Presentation
Moderator: Fred H. Hutchison, President and CEO, LNG Allies
// 11:45: Questions from the Audience
// 12:00: Presentations by U.S. LNG, FSRU, and Gas-to-Power Providers
Gabriela Aguilar, Vice President, South America, Excelerate Energy - Presentation
Kleber Costa, Vice President & Chief Commercial Officer (MCAC), The AES Corporation - Presentation
Daniel Meniuk, Regional Leader for Brasil & Southern Cone, GE Gas Power Systems
Moderator: Felipe Gonçalves, FGV Energia
// 12:45: Questions from the Audience
// 13:00: Networking Luncheon
// 14:15: Forum Concludes
Venue: Auditorium Engenheiro M. F. Thompson Motta - 12th floor, Praia de Botafogo, 190 - Botafogo - Rio de Janeiro/RJ, headquarters of Fundação Getúlio Vargas.
Date: May 23th, 2018
Schedule: 9:00 to 13:00